Currently Listening to…
by
Cate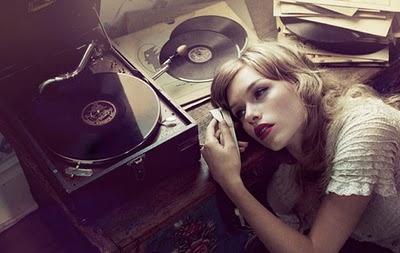 The Men, Uncle Tupelo, Elvis, Little Richard and more.
Brooklyn trio, The Men (not to be confused with JD Samson and Johanna Fateman's post-Le Tigre side project, MEN, which is also based in Brooklyn or the 1980s pop rock band from Santa Monica, also called The Men) released their second LP last month on Sacred Bones Records. Open Your Heart is aural catnip for fans of 1980s indie rock groups like the Replacements, Hüsker Dü, Dinosaur Jr and Mudhoney. Much like the aforementioned bands–the 'Mats, especially–The Men's music possesses an uncommon combination of ramshackle physicality and a sentimental core.
Plus, it sounds really great when played at maximum volume.
Sheepishly, I must admit that I am a late-comer to the alt-country party. For too many years, I associated anything remotely country with the likes of Garth Brooks, Nascar, and line dancing. It's a shame because that narrow-minded ignorance blinded me to some really incredibly music that I am only now discovering, such as Uncle Tupelo.
Branching off of my new-found interest in alt-country, I have also been re-discovering to the albums Sun Records put out during its classic period (1952-1960, give or take a year). Elvis's career began at Sun Records in 1953 and though he would go on to have a wildly successful solo career with RCA Nashville, his Sun Records remain some of his best work.
I adore Little Richard. I love his arrogance, his eccentricity, his wildness and his music. He was a trailblazer for rock'n'roll music in the 1950s and 1960s without whom, we would not have much of the music we have today. He will always be an artist who deserves far more credit than he has ever received from music historians.
I can never get enough of Karen O's primal scream. Fever to Tell was among my favorite albums of the last decade.
"Dream a Little Dream of Me" is a standard but Mama Cass Elliot's languid rendition is probably my favorite version.